Moving - moving company - prices incl. VAT
Rating of moving help on Trustpilot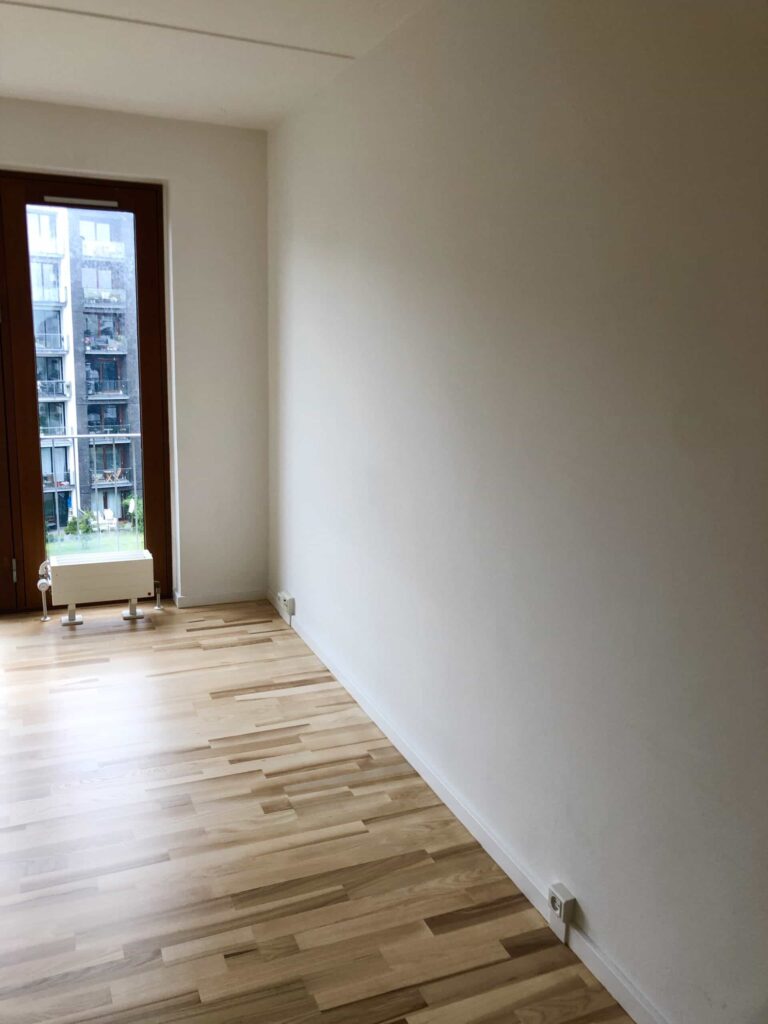 Do you need a reliable moving company in Copenhagen? Look no further! Our team of professionals will handle all your belongings with care. Contact us for a stress-free move.
Along with our fantastic service to renovation when moving out of tenancy, then you can also purchase the removal of all your belongings. 
Get the deposit back and pay 50% of the bill in advance
You can now wait with 50% of your payment until you have received yours deposit back from the landlord that you are covered by our guarantee on all our work at a repair of rental housing. We price match and are the cheapest on the market - It's a Win Win. Read more about our prices and rules.
We move for you and refurbish your tenancy - and you get your entire deposit back. 
We work together with professional moving companies who have been moving for many years and therefore have the experience needed to ensure that all your belongings can easily move on to your next home. 
Get 5% – 10% discount on the moving home and the new home
, if both homes are to be repaired, painted and cleaned incl. relocation. Contact us and hear more. 
Gentle relocation for individuals and businesses
Relocation guarantee always stands for an easy and gentle eviction of the rental property, the house, the office (office relocation) or the business premises. 
Contact us and get help from a professional renovation and moving company that tailors a solution to suit your needs.
The target group is Copenhagen and Zealand
They can handle everything from the small to the big move, all kinds of vehicles and machines will be available, from trucks to cranes and moving boxes if desired. All insurances are in place, so if the accident were to occur, you are fully covered during the entire process. Our people are all skilled and very competent in their field. 
Should you have moved after your refurbishment - don't worry - we drive throughout Denmark.
If your move is from Zealand to Jutland, we can also help
You can therefore safely entrust your move to us. If we are to carry out your move together with our renovation, all you have to do is give us the key, tell us when you want to move out and where we will deliver your contents. We can even take yours eviction view for you, so you don't have to come back to the vacated rental property. Should there be the slightest, our deposit guarantee and insurances will cover you in full. You are thereby financially secured when you move.
WE SEE OURSELVES AS THE BEST MOVING COMPANY IN COPENHAGEN WITH A TOTAL SOLUTION: MOVING VEHICLE WITH DRIVER AND MOVERS
Here you get a total solution with driver, removal truck and movers.
See ours prices here. Please note that our package offer for renovations does not include moving the contents, as the move will be billed separately due to the hourly price of the move. Find our price list here. Also read a bit about the reservations we take in our terms of sale and delivery.
Feel free to contact us by phone 7174 9567 to hear more about how we can help you, or get a quote below.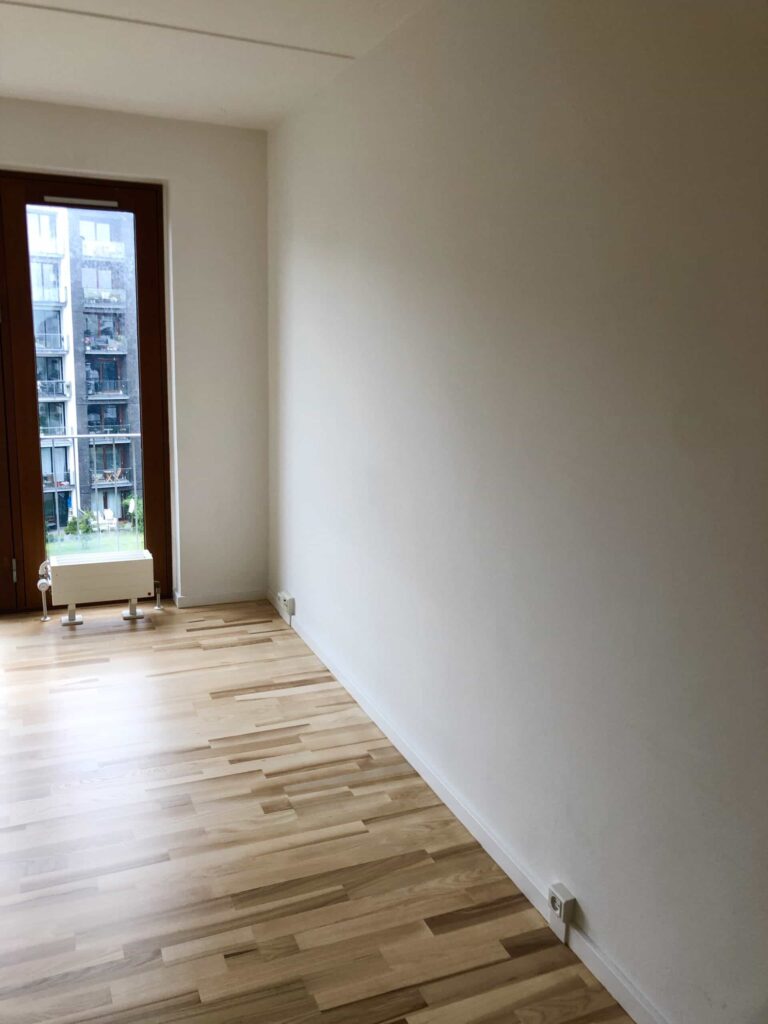 See our customer testimonials at Cases-since.
10 reasons to choose Moving Guarantee for your move
Wait to pay 50% of the bill until you have received your full deposit back. With our guarantee, your money is completely protected.
We participate or take the moving inspection for you so that you have professional help for your landlord
Full deposit guarantee on our work
If errors and defects occur in our work, our guarantee will refund your money
The project manager from Udflytningsgaranti always attends your eviction inspection so that we can ensure that the inspection complies with Danish tenancy legislation and that our work can be explained to the landlord
Lawyers specializing in tenancy law associated with each case, who handle documents and if problems should arise with the landlord
Craftsman quality according to Danish agreements - only Danish skilled workers are used at Udflytningsgaranti ApS
Highest rate of satisfied customers compared to our competitors with 4.8 stars out of 5 on Trustpilot - see the reviews at this link: https://dk.trustpilot.com/review/relocation guarantee.UK
Environmentally friendly products and a green approach to recyclable materials, as well as products to make a difference in the craft industry, for a cleaner world
Deposit back: We are in control of the usual rules, so you have the option of getting your deposit back when you move out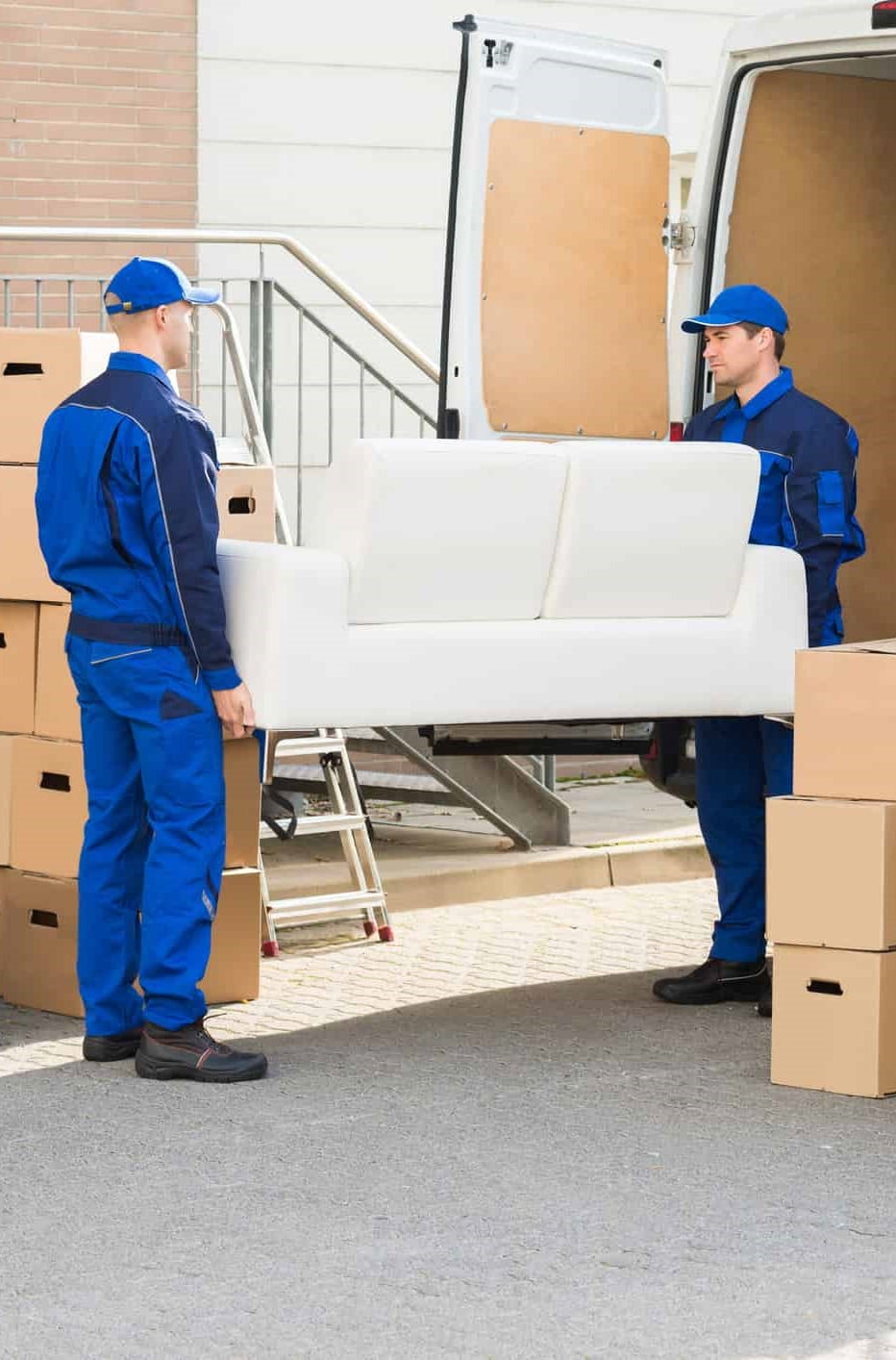 Would you also like to move easily from your rental property and get your entire deposit back?
FAQ – Moving contents
Where do you move from time to time?
We move throughout Denmark, you just need to be informed that our movers drive from Copenhagen, where we have our headquarters.
CONTACT your moving company in Copenhagen BELOW
How much does moving furniture cost?
Moving with Udflytningsgaranti has a cost price of DKK 1,000 including VAT per hour for the following: 1 moving truck with 2 movers included.
Are we fully insured by using you to move household goods?
All our movers have full insurance and you are therefore fully insured if any of your things should break during the move, the full amount of the value will be refunded in the event of an accident. 
How early should I book my move of household goods?
It is always good to be out in good time, however we would like to be able to plan it, at least 3 weeks before the move is to take place, in urgent cases there will also be options.
Is there anything else you need to know if I have to order the removal of furniture?
If you have any other questions regarding moving your belongings, you are very welcome to write to us by email or call us, we will always be available to talk to you about the move and any questions you may have.
CONTACT your moving company in Copenhagen below
We see ourselves as the BEST MOVING COMPANY IN COPENHAGEN WITH A TOTAL SOLUTION: MOVING VEHICLE WITH DRIVER AND MOVERS
REMOVAL GUARANTEE APS IS THE BEST MOVING COMPANY IN COPENHAGEN WITH MANY YEARS OF EXPERIENCE
We offer relocation with a moving van with driver throughout Copenhagen. We can offer movers at cheap prices in and around Copenhagen, also if you have to move in or out of Copenhagen, whether it is private or business, we can help you with a guarantee. So do you need a cheap mover for eviction? We can help with the move and send out two movers for private removals throughout Copenhagen.
CONTACT US BELOW
RENOVATION AND MOVING THROUGHOUT COPENHAGEN
If you need a stable and experienced moving company near Amager, Glostrup or anywhere else in Copenhagen, you are welcome to contact us. Our movers handle everything from private to business relocation, always with the greatest professionalism. We offer relocation with moving truck and driver to help you. We are happy to hear from you about moving and always tailor moving offers that suit your needs and budget. We choose the right mover at the right price with the best experience to meet your needs. By hiring Uftlytningsgaranti APS, you can relax in peace and enjoy moving services, which are handled by a moving company with many years of experience.
DO YOU WANT A SAFE AND EFFICIENT MOVING EXPERIENCE?
Contact Vvlytningsgaranti APS today and get your own personal offer for your move. We are happy to help others move with a moving truck with a driver, and have a virtue in providing quality service. Moving Guarantee's private removals are carried out quickly and efficiently, while minimizing risk and damage. With our expertise and experience, we ensure that your move goes smoothly. We look forward to helping you safely carry your personal belongings from A to B and hope you will see us as the best moving company too!
CONTACT US BELOW
WHO ARE WE?
Relocation guarantee APS is the best bet for a cheap mover for eviction. Moving is a stressful task that requires skill and experience. Fortunately, we are the best moving company in Copenhagen and offer help with moving with a moving truck and driver. It is also an essential life task that happens to people all the time. Whether you are moving within or outside your country, you should choose a professional mover to help you. With many years of experience in handling all types of tenancies, our team knows exactly how to handle your situation in the best possible way. Of course, our goal is always 100 % customer satisfaction, because it makes us happy to see our customers satisfied and that they appreciate our help.
THE BEST MOVING COMPANY FOR REPAIR OF BOTH HOUSE AND APARTMENT WHEN MOVING OUT
Moving can have many different tasks and at Udflytningsgaranti APS we are ready to help you with the vast majority of tasks in connection with moving. Do yourself a favor and buy one relocation assistance with us, so you can pass yours relocation inspection. It will make the moving process and renovation easier and make it easier for you to move into your new home, whether it is a house or apartment.
OUR SERVICES FOR RELOCATION
When moving out, we offer various services for your move, such as floor service/floor work (sanding and treatment of floors when moving out) and painting work by professional painter (Painting of apartment when moving out). Whether it is a large or small private move, we are here to move your belongings, pack a van and move your belongings into your new home. We would also like to help you with the final cleaning when you move out, and we would be happy to send a handyman to help you as best as possible with all kinds of things. If you call us, we would like to work with you to find the very best solution for your particular needs.
CHOOSE THE BEST MOVING COMPANY FOR YOUR NEEDS AND THE BEST PRICE.
We are able to make the eviction process as easy and cheap as possible for private tenants in Zealand, including inner Copenhagen, Frederiksberg, Amager and Glostrup and much more - If necessary, write to us and ask if we offer our service in your city, because we would like to help just you. If you are looking for an affordable price on your private removal, contact us today! Prices from DKK 14,999, but we are willing to negotiate a good price for you. You are always welcome to call us if you want to know more about our prices. We always offer good and transparent prices - you are of course welcome to send us a non-binding inquiry via message or email, or give us a call over the phone - we can certainly help you with your move!
We also help with renovation of tenancies and apartments in the event of death
CONTACT US ON
BE SURE TO GET YOUR DEPOSIT BACK!
With us as your moving company for private removals in Copenhagen, you get cheap, fast and efficient moving services for all your needs and wishes for a safe and efficient move. So if you want to get rid of the boring job of the moving company and move privately, you are welcome to contact us today. So call us and get the professional advice you need to manage your move from a professional moving company. You will then receive a moving offer at the very best moving price from a mover who knows the best solution. We provide everything from normal repair of leases and rental housing, so you are sure that get your deposit back. In addition, we can also help with preparation of house for sale, or renovation of apartment in case of death.
WE PROVIDE FOR THE RENOVATION OF BOTH RENTAL APARTMENTS AND HOUSES
We offer house preparation for sale, normal repair upon moving out, renovation of an apartment in the event of death, total main cleaning by a professional cleaning company in private homes, floor service, painting work by professional painter, sanding of floors when moving out. In this way, you can get your deposit refunded and not lose money on your old home. In addition, you will of course also get your deposit back. So if you are looking for a competent, professional and experienced moving company for a personal move, business move or furniture shipment – this is one of the most experienced moving companies in the industry.
Comply with the Tenancy Act as a resident
There are a number of measures that you can use to ensure compliance with the tenancy law in Denmark when you make a renovation of an apartment upon moving out and moving in. Here are a few suggestions:
Review the lease: Make sure you understand the terms of the lease and any provisions related to renovating or remodeling the apartment.
Communicate with the tenant: The landlord must keep the tenant informed of the planned renovations and seek their consent before they can proceed. It may also be necessary to give the tenant advance notice of any planned disruptions to their housing situation. If the landlord does not do this, then you as the tenant have some cards on hand. Relocation guarantee often helps you with this sort of thing, so you stand strong against the landlord.
Obtain necessary permits and approvals: Check with local authorities to make sure you have all the necessary permits and approvals before proceeding with the renovation.
Follow Health and Safety Guidelines: Follow all relevant health and safety guidelines during the renovation process to ensure the safety of the tenant and anyone else who may be affected by the work.
Comply with building codes and regulations: Ensure renovations comply with all relevant building codes and regulations.
Relocation guarantee recommends that you keep records of correspondence and conversations. Make an overview of all communications, agreements and approvals in connection with the renovations. This will help you show that you have taken the necessary steps to comply with the Tenancy Act and protect your interests.
It is important to note that the tenancy law in Denmark can vary depending on the specific circumstances of the tenancy and the type of accommodation. It is always a good idea to consult with an attorney or other legal professional if you have questions or concerns about your obligations as a landlord or tenant.
Movers prices
Finding the right moving company to help with a move can be a challenge. There are many factors to consider, including the quality of service, the safety of one's belongings, and most importantly – the price. It is important to research the market thoroughly to find the best offer that meets one's needs and budget.
Experienced repairers and movers at a fair price
Nyvlytningsgaranti is a company that specializes in the moving industry. We have a team of experienced movers who can help make a safe and smooth move. At the same time, they offer competitive prices that fit most people's budgets.

When it comes to movers and prices, it's important to remember that price doesn't always reflect the quality of service. There are many moving companies that offer cheap prices, but this can often result in a lower quality of service and an increased risk of damage to one's belongings.
Relocation guarantee takes a different approach. We focus on providing high quality service to their customers, while offering reasonable prices. Our team of movers are trained and experienced, and we have the necessary tools and equipment to carry out a safe move.
It is also important to think about what is included in the prices for our movers and renovation team. Some moving companies offer a fixed price, while others have an hourly price. It is important to have a clear understanding of what is included in the price before choosing a moving company. Hear more about it by going to our price page or by contacting us.
Relocation guarantee offers a fixed price to our customers, which gives a clear understanding of what is included in the price. Their prices include everything necessary to carry out a safe move and refurbishment, including the transport of furniture.
Have a good and successful move with us by your side
In the end, the choice of moving company is crucial for a successful move. It is important to research the market thoroughly to find a company that can provide high quality service at a reasonable price. We are a company that meets these requirements and can help make a safe and smooth move.

High-quality services in Copenhagen and Zealand
See ours prices